Land, sea and light iwill be a collection of 17 white reliefs, hung as the doors of oak and beech cabinets, inspired by the cliffs and beaches of the St Davids Peninsula, Pembrokeshire.
The concept evolved from a commission in 2013 for an oak sideboard inspired by the rock formations of Porthmelgan bay.
I became fascinated by the potential of the shadows and light on the layered reliefs of its doors potentially to depict images of the wider landscape. Like the rocks, the doors are built up from layers, and the surface relief, like the patterns on the rocks, suggest images of the landscape itself – sometimes almost figurative, sometimes wholly abstract.
The cabinets were developed with the help of an R+D grant from Cyngor Celfyddydau Cymru/Arts Council of Wales, and finally revealed their full potential when I began to paint the surfaces white. White removes distraction. White reveals pure form. White suggests the pared down essence of place.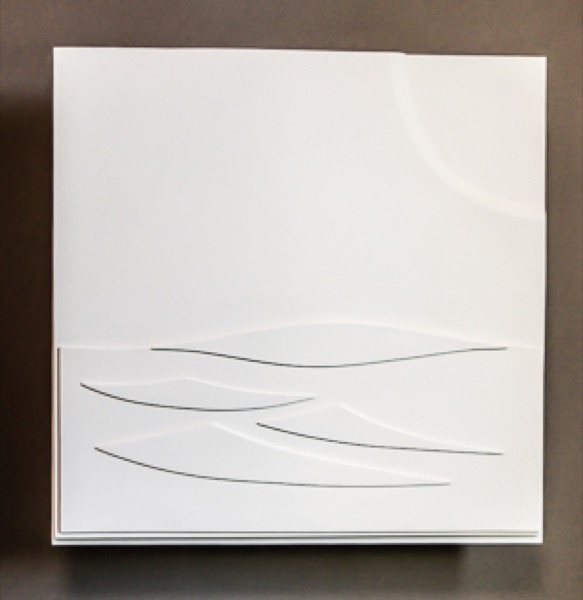 The images for land, sea and light come from sketch after sketch made on location, each one trying to simplify and find the essence of the landscape forms, or from a photograph snatched between squalls. Sometimes the image is so clear in the mind after a walk on the cliffs that it has only to be transferred to the wood as quickly as possible on returning to the workshop.
When the collection of 17 cabinets ranging from 300 x 300 mm to 600 x 600 mm is exhibited you will be able to see them all here on the website. You might like to follow my Facebook page to keep in touch.